San Diego has a reputation as one of the best beach towns in the United States. and with its beautiful weather, miles of coastline, and diverse selection of seaside hangout spots, it's easy to see why. San Diego features so many great beach options, in fact, that deciding which one is perfect for you will depend on what exactly you're looking for in a beach experience. This will most definitely be the case if you're visiting San Diego with the kids in tow.
When it comes to determining which beach is right for you and your family, you'll be spoiled for choices. That's why I've put together this helpful list detailing some of the best kid-friendly beaches found anywhere in or around San Diego.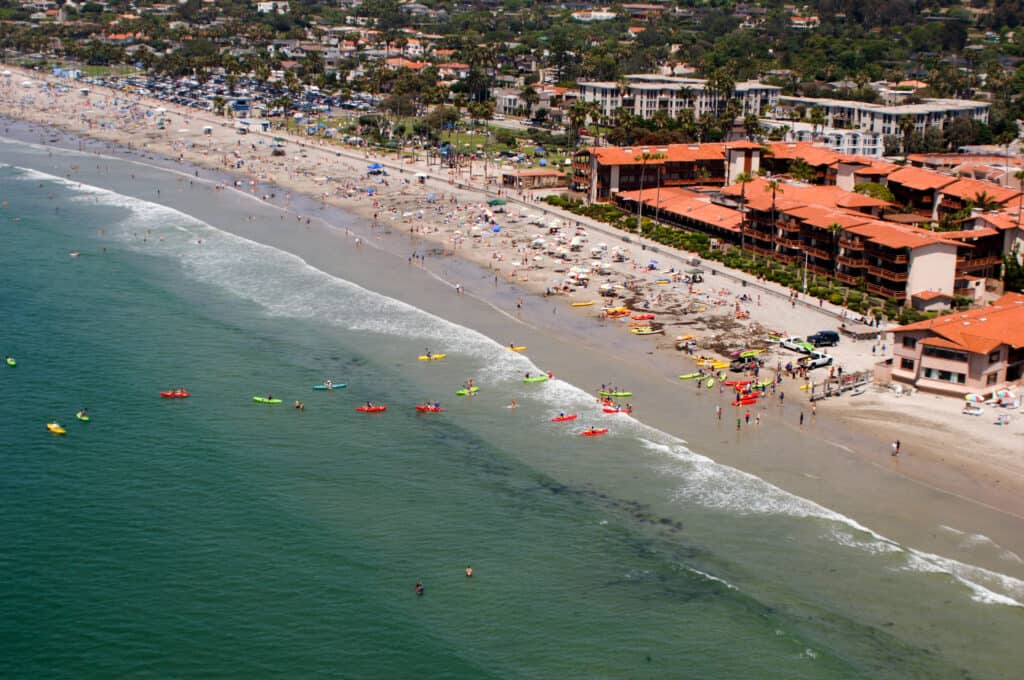 La Jolla Shores
Not only is La Jolla Shores considered by many to be the foremost family beach in the greater San Diego area, it's typically ranked near the top of any list of best beaches in the entire country. La Jolla Shores is known for its gentle waves, which makes it a popular place to rent kayaks or go scuba diving. And if the little ones need a break from all that sand, nearby Kellogg Park has a fun playground just feet from the ocean.
Moonlight State Beach
Moonlight State Beach in Encinitas is a great family beach. Famous for its gradually sloping beach—which makes keeping a safe eye on the kids as the play near the shore all that much easier—Moonlight State Beach is anchored by a swimming-only zone, which steers surfers, kayakers, and more clear of the area. You can rent recreational equipment here, and the fine facilities also include a snack bar, volleyball courts, picnic tables, and if you're feeling really ambitious, tennis courts.
Coronado Central Beach
Another legendary San Diego area beach that's an outstanding fit for families with small children is Coronado Central Beach. Located mere steps from the iconic Hotel del Coronado, Coronado Central Beach is as breathtaking a stretch of shoreline as you'll encounter. On a typical day here the water is calm enough for kids to swim in, and during low tide everyone will enjoy searching out the tidepools that appear along the beach. And when everybody's had their fill of sun, nearby Orange Avenue has plenty of classic Coronado shops and restaurants.
Mission Bay
No matter how old your kids are, if they love the great outdoors they're going to love Mission Bay, a large, water-based park with a little bit of something for everyone. At the heart of Mission Bay is a human-made saltwater bay where you can take sailing lessons, learn how to paddleboard, go fishing, or simply soak up the good vibes along the area's some 27 miles of shoreline. Oh, and guess what? Mission Bay is also home to SeaWorld San Diego—so, yes, you'll be needing to make a whole day of it.
Silver Strand State Beach
Beach-going families who want to treat their kids to a less-hectic shore outing should think long and hard about spending the day at Silver Strand State Beach. This beach is huge—located on the thin strip of the Coronado strand, it has beaches facing both the Pacific Ocean and San Diego Bay—meaning regardless of the circumstances you'll have plenty of space to spread out and relax away from the hustle and bustle of your standard beach crowds. It's serviced by four large parking lots, too, which is welcome from a logistics standpoint, and for a reasonable fee you can even rent beach chairs and umbrellas as well.
Torrey Pines State Beach
Located in La Jolla, Torrey Pines State Beach is one of San Diego's most scenic beaches, and if you're planning on picnicking somewhere along the shore, it's a great option. Parking can sometimes prove tricky here, so if the kids have their heart set on Torrey Pines State Beach be sure and arrive early in the day. And for a truly unique San Diego beach experience, consider combining a trip to the beach with a hike through Torrey Pines State Natural Reserve. The Reserve has multiple family-friendly hiking trails, and you can even hike some of them all the way down to the beach.
Del Mar City Beach
Ask ten locals for their take on San Diego's best beach, and you're likely to get ten different answers—that's how strong the scene is here. And yet, when you do get repeat answers, more often than not the consensus is Del Mar City Beach. During peak season it can get pretty crowded, but it's a consistent favorite with families who know San Diego because of the clean restrooms, strong lifeguard presence, and nearby Powerhouse Park, which contains a fabulous playground and picnic area.
Children's Pool Beach
Another outstanding kid-friendly beach located in lovely La Jolla, Children's Pool Beach is a wonderful place to visit if your children are interested in seeing sea lions and harbor seals up close and personal. This small beach occasionally gets subjected to strong currents —it's not a let's-go-swimming or roll-out-the-beach-towels-on-the-sand type of beach—but it's a fantastic place for nature lovers. Combine a visit here with a trip to nearby Birch Aquarium and now you're talking about the makings of a special day.
Ocean Beach Dog Beach
If you'll be visiting San Diego with both kids and a beloved family pet along for the ride, then when it comes to picking an area beach destination you've got an easy decision on your hands: head straight for Ocean Beach Dog Beach. This lovely stretch of shore is situated at the northern edge of Ocean Beach along the Mission Bay Harbor Channel, and it's an explicitly leash-free zone, meaning it's the sort of welcoming space where your furry friends can swim and play and have every bit as much fun as the whole family.