Originally built as a conservation facility, the San Diego Zoo Safari Park first opened its doors in 1972. Today, it is one of San Diego's best attractions, welcoming a whopping 2 million people through its doors annually. It's home to more than 2,600 animals representing over 300 animal species and over 3,500 plant species. It's also home to the largest veterinary hospital in the world, which is situated adjacent to the park.
Dozens of endangered species have been bred here and reintroduced into the wild. The entrance fees and fees from the extra cost activities help maintain this animal sanctuary and continue its great work. Below I've created an in-depth look at both the free and extra cost activities you can enjoy at the Safari Park.
It's Included: What You Get with the Price of Admission
Before I get into the paid extras at the San Diego Safari Park, I'm going to give you a quick breakdown of what's included in the price of admission as well as some freebie activities you can enjoy at the park if you know about them ahead of time.
The Africa Tram
Due to its expansive acreage, it can be hard to walk the entire park, especially during the summer when the sun is bearing down on you. So, take the complimentary Africa Tram. It's the best way to see the entire park, ensuring you don't miss out on any of the animal habitats. Afterward, you can explore your favorite areas again without feeling rushed. These guided rides begin departing at 10:30 a.m. and last 25 minutes. Boarding takes place at the far side of the Park.
Animal Encounters: Watch Feedings, Ask Questions, and Get Interactive
Tiger Keeper Talk
Learn about Sumatran tigers at the Sumatran Longhouse located on Tiger Trail. One of the tigers' keepers will tell you everything you want to know about these fabulous animals. Talks take place at 11:45 a.m. every day that the park is open.
Animal Ambassador Stage
Get face-to-face with one of the park's animal ambassadors in the Safari Base Camp. This interactive program lets you get up-close-and-personal with an alligator, cheetah, or other exotic and rare animal. The animal trainers encourage you to ask your burning questions about the species and their habitats. This experience takes place twice daily, one at 9:30 a.m. and one at 2:30 p.m. Other animal encounters take place in the Gorilla Forest at 12:30 p.m. and in the African Outpost at 11:30 a.m. and 2:00 p.m. daily.
Cheetah Run
Witness the fastest mammal alive light up the racetrack at the Cheetah Run. Situated near the Lion Camp this jaw-dropping experience is included with the price of admission. You'll sit back and relax as one of the park's cheetahs takes off down a 330-foot straight track allowing it to really stretch its legs as it reaches top speeds of 70 mph.
Hanging Out in Nairobi Village
This area of the park offers several animal encounters and unique experiences at various times throughout the day including the Petting Kraal, Lorikeet Landing, and Lemur Walk.
Petting Kraal
Let your children meet the park's littlest residents at the Petting Kraal where they can brush and stroke gentle goats. This takes place twice daily – at 10 a.m. and 4:45 p.m.
Lorikeet Landing
Feed colorful rainbow lorikeets at Lorikeet Landing at 10 a.m. or 3:45 p.m. For a small fee you can purchase nectar, and these vibrant birds will land on your hand to get their fill. This experience isn't recommended for skittish children as it can be a little overwhelming for them.
Lemur Walk
Have you ever wanted to get up-close-and-personal with a lemur? The Lemur Walk is an immersive experience where you'll walk along a pathway through this animal's natural habitat to catch these endearing primates living their best lives. Watch them as they socialize with one another, groom each other, jump around, climb trees, and even sunbathe. This activity has a minimum age requirement of 5 years old.
Learn more about what is included in the price of admission and purchase discounted tickets.
The Butterfly Effect
One of the most anticipated annual events at the park is the Butterfly Walk. From the end of March to the beginning of May thousands of gorgeous butterflies displaying all colors and sizes fill a greenhouse in Nairobi Village. It's a joy to walk through as these winged creatures flit across the space. You can easily identify each with the handy identification guide provided to you. Priority butterfly viewing is available at an additional cost. You can get tickets at the Priority Ticket booth. You can also purchase a special treat to have these little guys eating out of the palm of your hand.
Tip: Wear bold and bright colors on the Butterfly walk to invite one of the butterflies to perch on your shoulder.
It's Not Included – But It's Worth the Additional Cost
While there are a plethora of free activities and encounters that you can experience at the park, there are also a host of extra-cost activities, experiences, and tours to choose from. They range in price from moderate to expensive, but don't let the price run you off. The proceeds are used to maintain the park and continue to provide the animals with the best care possible.
Conservation Carousel
A perfect attraction for kids and playful adults, the Conservation Carousel is a classic carousel with 60 replicas of wild animals, many you'll find in the park like giraffes, rhinos, cheetahs, and zebras. Hop on your favorite animal and enjoy the ride as you listen to the cheerful music. You get unlimited rides for just $6; this attraction is open from 10 am to closing time.
Balloon Safari
Fly high in the sky with the Balloon Safari experience, this tethered helium balloon launches 400 feet into the air giving you a view typically reserved for out winged friends. Designed to imitate the hot air balloon tours of the Serengeti, you'll spend 10-12 minutes enjoying aerial views of the various animal habitats. As the price of this activity varies, you'll have to inquire at the park to find out the cost. The best times to fly are at 9 am and 12 pm.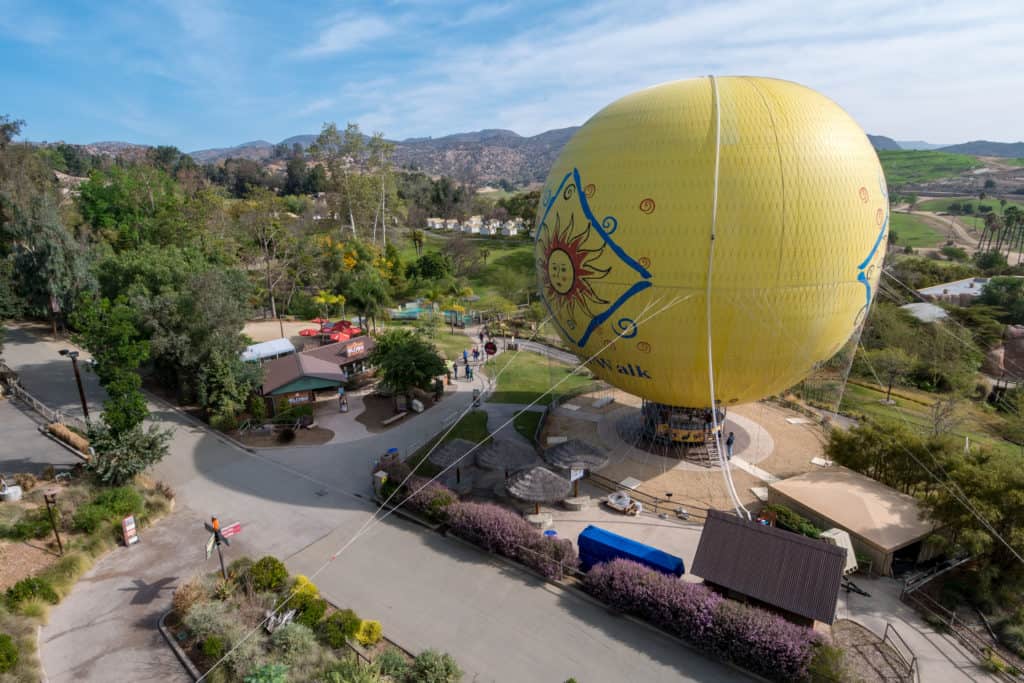 Caravan Safari Adventures
Classic Caravan Safari Adventure
Feel like you're on an actual safari in the open fields of Africa with the park's classic Caravan Safari Adventure. It lasts two-hours. You'll travel in the back of a covered, open-air safari truck as you explore at least two of their field enclosures. This experience allows you to get up-close with the mammals and birds native to Asia and Africa, plus offers an opportunity to feed the giraffes.
Age Minimum: Must be at least 8 years old
Price: $125 and up
GSD Note: This tour is also available as the Caravan Safari Deluxe which simply means you get more time out on the Safari and visit more enclosures. It lasts 3.5 hours, and the cost increases to $175 and up. The age minimum is 8 years old.
Caravan Safari Twilight
This experience is identical to the classic Caravan Safari Adventure except that it takes place at twilight. You'll enjoy cooler temperatures and beautiful evening light vistas. Tours that take place at this time of day usually see increased animal activity. They are only available during certain months, so be sure to call ahead.
Age Minimum: Must be at least 8 years old
Price: $125 and up
Caravan Safari Kids
Designed especially with kids in mind, the Caravan Safari Kids kicks off with an animal presentation and an opportunity to meet on the park's animal ambassadors up-close. Several hands-on activities are provided throughout the tour, and a knowledgeable guide will help your children discover just how similar humans and animals really are.
Age Minimum: Must be at least 6 years old
Price: $125 and up
Note: All animal interactions and feeding opportunities are subject to the animals' accessibility and disposition at the time of the tour.
Cheetah Safari
Perhaps one of the coolest experiences at the park, the Cheetah Safari, includes reserved trackside seats at the Cheetah Run where you'll watch a lightning-fast cheetah whoosh by you as it chases a mechanical lure just a few feet away. Before the big chase you'll relax in your VIP seating area as you get to enjoy an up-close-and-personal interaction with a different African animal.
After the race, both cheetah and trainer will come over to your section for an exclusive meet-and-greet experience where you can ask any questions and snap some photos. This is a one-hour activity that you must call ahead to experience, as it's only available on select days and times.
Minimum Age: Must be at least 10 years old
Price: $59 and up
Cart Safari Africa
A one-hour tour, you'll travel in the back of a cart through the Africa enclosure as a knowledgeable guide educates you on the park's history and answers any questions you have about the animals who inhabit that area. You'll get great photo opportunities and have the chance to watch one of the African animals enjoy a delicious treat.
Minimum Age: Available for all ages
Price: $54 and up
Cart Safari Asia
This one-hour tour takes you through the Asia enclosure via cart as a professional guide provides you a deeper understanding of the animals that inhabit the space. It's a great opportunity to get some incredible photos of the animals, and also includes a chance to watch one of the animals receive a tasty treat.
Minimum Age: Available for all ages
Price: $54 and up
Flightline Safari
If you're looking for a thrill, Flightline Safari is just the activity for you. Soar across the park in a comfortable and secure safety harness 130 feet above the ground. You'll enjoy a birds-eye-view of the park's animals including giraffes and rhinos. This activity includes use of safety equipment, a flight orientation, interpretative tour, and a ride on two ziplines.
The Fledging zipline prepares you for the ultimate ride on the exhilarating Flightline zipline.
You'll get exceptional views of the Safari Park as you zip roughly 2/3 of a mile before landing close to the campground at Kilima Point. You can also record you flight for an additional cost with their high-definition helmet cams. This activity lasts one hour including the training, test flight, and final flight, and tickets must be purchased in advance.
Minimum Age: Must be at least 8-years-old
Price: $79 and up
Jungle Ropes Safari
Are you the daring type? If so, the Jungle Ropes Safari gives you a unique opportunity to walk, balance, climb, and swing your way through a ropes course testing your jungle skills at every turn. You'll strap into a safety harness and receive instruction from a trained staff member before you set out on your own, or with your group, using the Smart Belay system to travel the trails at your own pace. You'll attempt to navigate aerial tightropes, cross rope bridges, negotiate swinging log steps, and cross moving platforms among several other thrills.
There are three different courses to choose from. Try one, or try them all. The choice is yours. Trained staff will be available along the way, but this is a self-guided/paced activity. For even more excitement, add the Flightline Safari to your adventure. This activity lasts 90 minutes including training. Tickets must be purchased in advance.
Minimum Age: Must be at least 7 years old
Price: $54 and up
VIP Ultimate Safari
Create your own personalized adventure at the Safari Park. You can choose between 5- and 8-hour tours that you co-create with of the park's professional planners. All tours are tailored to your needs, requirements, and preferred activities, and include a meal of your choosing.
Minimum Age: Must be at least 3 years old
Price: $690 and up
Behind-the-Scenes Safari Experiences
The Safari Park offers several Behind-the-Scenes Safari experiences where you get the chance to get an in-depth look at some of your favorite animals. Below is a quick breakdown of each one.
Butterflies & Friends
This is an exclusive interactive and guided BTS experience and the park's most popular attraction during spring. Starting in the morning, you'll visit with Rodrigues fruit bats where you'll talk with one of their keepers to learn all about these furry high-flying creatures.
This is followed by an introduction to the Butterfly Jungle where you'll meet its thousands of beautifully colorful inhabitants without the crowds. Afterward, you'll enjoy exclusive access to Lorikeet Landing where you'll interact with a few ambassador animals and their trainers. This two-hour walking tour is only available during the Spring season.
Minimum Age: Available for all ages
Price: $119 and up
Elephants and Friends
Take a two-hour guided tour through Elephant Valley where you'll learn all about these massive, yet gentle animals. You'll get an up-close animal encounter with one of their animal friends in addition to viewing the elephants from a private viewing area as you learn what it takes to care for these magnificent animals.
Minimum Age: Must be at least 3 years old
Price: $89 and up
Roos & Mates
Head down under to visit your favorite hopping marsupials in the newest addition to the Safari Park – Walkabout Australia. You'll get an up-close encounter with some of the park's newest mates while learning how the park provides for these cute creatures, as well as a visit to their off-exhibit homes. You will also have the opportunity to feed one of these Roo's during this two-hour tour.
Minimum Age: Must be at least 3 years old
Price: $89 and up
Tiger and Friends
Get a rare look at the lives of the magnificent tigers in Tiger Trail and how their incredible trainers care for them. You'll journey through the park's multispecies field enclosures viewing the various Asian and African animals that inhabit them on this two-hour tour. It includes a visit to the off-exhibit tiger keeper area, and an animal friend encounter.
Minimum Age: Must be at least 3 years old
Price: $89 and up
Cheetah and Friends
On this two-hour tour you'll get the chance to meet one of the park's cheetahs at the Benbough Amphitheater while learning about their conservation efforts. As you journey around this multispecies enclosure, you'll learn how these incredible animals are cared for and view a variety of Asian and African animals.
Minimum Age: Must be at least 3 years old
Price: $89 and up
Lion and Friends
Explore Lion Camp on this two-hour guided tour where you'll learn how these powerful animals are cared for and enjoy an up-close experience with an animal friend. You'll also get the chance to visit the off-exhibit lion keeper area, and to explore the multispecies field enclosures featuring various Asian and African animals.
Minimum Age: Must be at least 3 years old
Price: $89 and up
Rhino Rescue Center
Spend two hours exploring the state-of-the-art Nikita Kahn Rhino Rescue Center. This 3.5 acre facility is dedicated to the conservation of white rhinos. You'll learn about the park's assisted reproductive techniques, and how they're fighting to end their extinction. It also includes a tour of the multispecies field enclosures. This tour is only available on select days seasonally.
Minimum Age: Must be at least 6 years old
Price: $89 and up
Veterinary Medical Center
Get an inside look at the Paul Harter Veterinary Medical Center and learn about its extensive history of veterinary services while touring this high-tech facility for two hours. You'll see how they provide the park's animals with the best care, and why they are industry leaders in wild animal care. This activity is only available on select days seasonally.
Minimum Age: Must be at least 6 years old
Price: $89 and up

Spend the Night at the Safari Park
Roar & Snore Safari provide you and your loved ones with a truly unique experience spending the night at the Safari Park. These once-in-lifetime-style experiences includes an afterhours look the park's wildlife, guided walks, camp activities, and a campfire program. They also include dinner, an evening snack, and breakfast in the morning.
All Ages Roar & Snore
Spend the night at the park with your family and enjoy close-up animal encounters, a ride on the Africa Tram, and your choice of walking tour from relaxed to high-energy. Be sure to check their website for select dates, as they have themed sleepovers too including the seasonal Butterfly Jungle.
Minimum Age: Must be at least 3 years old
Price: $145 and up
Adults Only Roar & Snore
Discover the secret lives of animals through the kind of information you can only get when there are no children around. This special Roar & Snore is for adults only and includes facetime with animals that are both fierce and friendly, as well as evening hikes. Kick it up a notch with a theme like Creepy Camp giving a whole new meaning to the term night life.
Minimum Age: Must be at least 21 years old
Price: $145 and up