San Diego summer nights carry their own kind of magic. Ocean breezes rustle slender palm trees, music fills the cool night air, and savory aromas waft from neighborhood restaurants. All beg to be explored. And knowing where to go to enjoy these blissful evenings makes them even better.
When you live in San Diego, it's easy to take the city for granted and miss out on special places for years without realizing it.
If you're visiting, there is so much to do that it's often hard to zero in on the best ways to spend your time and money.
We've snooped around America's Finest City for some summer night fun for everyone. More than half of the things to do on this list are free, and all will give you a deeper appreciation for San Diego after dark.
4 Places with Epic Night Views
Who doesn't love a good view? And San Diego has plenty of them. For a twist on your favorite San Diego views, try experiencing them at night.
Mount Soledad
Mount Soledad offers some of the best daytime views of San Diego where you can appreciate a 360° panorama of coastal San Diego and the Pacific Ocean. At night, the lighted cross hauntingly bears witness to fallen veterans, while the glittering lights of San Diego spread across the landscape below you.
Centennial Park
Centennial Park, situated on the bayside of Coronado Island, is a fabulous place to linger over views of Downtown San Diego's unique and mesmerizing skyline. A favorite of photographers snapping the cityscape by day and at sunset, it's equally enchanting at night. Take the Coronado Ferry over for added fun. The park is walking distance from Ferry Landing.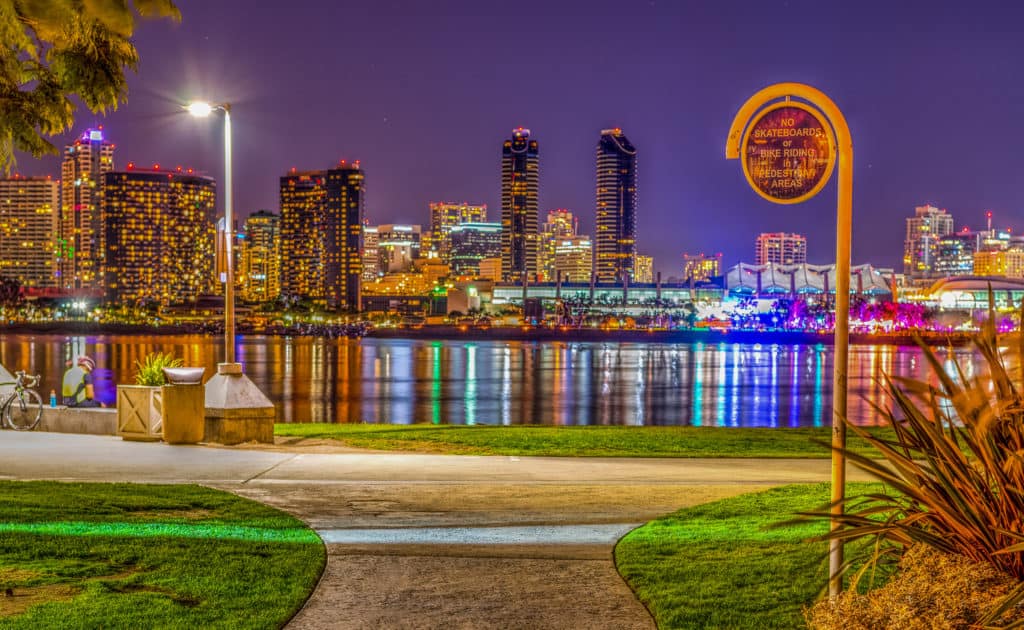 Stars in the Park
For the best views of the night sky inside the city of San Diego, join the San Diego Astronomy Association. They set up telescopes on The Prado the first Wednesday of the month following "Sky Tonight" shows at the Fleet Space Theater's planetarium. You'll find them on the west side of Fleet Science Center in Balboa Park. They're free and open to the public.
Mr. A's
Trendy 5th Avenue restaurant, Mr. A's, serves up sumptuous French-inspired cuisine with epic views of San Diego's bay and skyline. For an added wow factor, when you dine on the outdoor patio you're at eye level with the flight pattern of incoming planes landing at San Diego International Airport.
4 Venues for a Movie under the Stars
Remember drive-in movies? You can still have that nostalgic experience of watching outdoor movies under the stars in San Diego. Here are four of the best locations to get you started.
Cinema Under the Stars
Cinema Under the Stars is tucked away in the affluent Mission Hills neighborhood of San Diego. You can watch cult favorites and classics on a 20-foot screen with surround sound from zero gravity recliners. A retractable dome, infrared heating, and delicious snacks make for a fun night.
Dive-In Movies at the Pearl
How about a movie night poolside? The Pearl Hotel in Point Loma hosts Dive-In Movies at their weekly (free) "cinema social." They screen classic, independent, foreign, and blockbuster movies on their 13-foot projection screen. You can order cocktails and light bites from their poolside lounge. Float on a pool toy and watch the movie with others, or rent a private cabana.
Second Saturday Cinema
The second Saturday of each month, head over to Liberty Station to catch a movie on the lawn next to Liberty Public Market. Second Saturday Cinema free movies are curated by the ARTS DISTRICT at Liberty Station. Movies are preceded by curated short films and pop up performances. You'll also want to come early to explore the ARTS DISTRICT before showtime.
South Bay Drive-In Theaters
If it's a truly nostalgic drive-in movie experience you crave, head down to South Bay's Coronado Avenue. South Bay Drive-in Theater opened in 1958 and still shows two movies per night on each of their three screens. This consummate movie under the stars experience is available seven days a week.
3 San Diego Attractions That Are Equally Cool at Night
You love these San Diego attractions by day, but have you ever visited at night? Here are three summertime favorites you should definitely visit at least once at night.
Roar and Snore Safari
For the ultimate Safari Park adventure, spend the night in the park. San Diego Zoo Safari Park offers several options from All Ages Roar & Snore to Adults Only Roar & Snore. All of the park's sleepovers provide guided walks, after-hours looks at the animal wild life, camp activities, campfires, dinner and snack, and breakfast the next morning.
SeaWorld Summer Nights
Nighttime brings out the color and excitement of SeaWorld in a way you've probably never experienced it at Electric Ocean. There are two nighttime shows – Cirque Electrique features aerial performers in LED suits, and Illuminight showcases high-flying acrobatics. Club Current is the place to get your groove on. Atlantis Ignites and Manta Re/Charged are two favorite night rides with special effects. Sea of Life, School of Glow, and Laser Reef are other dazzling nighttime experiences.
Nighttime Zoo
Avoid the midday heat and throngs of tourists at the San Diego Zoo this year. Instead, hit the zoo in late afternoon after the crowds thin and the temperature begins to go down. Stay into the evening for Conrad Prebys Africa Rocks. You'll experience live music, surprise encounters, and family-friendly African-themed entertainment. Enjoy a trampoline act, and Dr. Zoolittle. Cap the night with a larger-than-life animal puppet performance.
4 Pedestrian-Friendly Neighborhoods to Stroll at Night
These four streets present the best of nighttime entertainment in their respective neighborhoods. An evening stroll along any one of them is a form of free entertainment in itself.
Prospect Street, La Jolla
Nighttime in La Jolla Village is alive with entertainment from gallery exhibits to musical performances. A walk down Prospect Street puts you in the heart of the action. Peruse shops, art galleries, antique stores, boutique hotels, and upscale restaurants all along this popular entertainment hub in the village.
30th Street, North Park
Men's Journal wrote, "30th Street in North and South Park is easily the nation's best beer boulevard." This North Park street is where beer aficionados go to find the latest in craft and local brews. Hop one street over to the Ray Street Arts District for the monthly Ray at Night art walk the second Saturday of every month.
India Street, Little Italy
Above nearly any San Diego downtown neighborhood, Little Italy is the best blend of Old World charm and modern urban edge. Tree-lined India Street presents an array of furniture showrooms, antique stores, art galleries, and one-of-a-kind eateries. Stop by Piazza Basilone and the Little Italy Fountain for some leisurely people-watching.
5th Avenue, Gaslamp Quarter
San Diego's Gaslamp Quarter is the city's walkable urban playground, and strolling 5th Avenue at night will ensure you experience it all. From House of Blues at one end to Hard Rock Hotel the other, this avenue is the hub of dining and entertainment in the neighborhood. Simply stroll the lively street, or stop at one venue for cocktails, and another for fine dining. End your night at a swanky rooftop bar.
3 Outdoor Evening Concert Venues in San Diego
San Diego's cool evenings supply the perfect ambience for outdoor concerts, and there are plenty of them. Here are three of the best outdoor locations for a night of music.
Bayside Summer Nights
From Beethoven by the Bay to Patti LaBelle to Burt Bacharach, the San Diego Symphony hosts concerts by the bay in one of the city's most enviable locations – Embarcadero Marina Park South. You can share a picnic on the lawn, indulge in champagne at reserved tables, or kick back in the grandstand for good music and San Diego Bay views.
Humphreys by the Bay Summer Nights
Rock, blues, jazz, folk, comedy, or international music – it doesn't matter where your musical tastes lie, you'll find a headliner at Humphreys by the Bay that suits your groove. They've been delivering top shows at this outdoor venue on Shelter Island for 25 years. Concerts are held at Humphreys Half Moon Inn, making it a convenient venue to watch the show and head straight to your room.
San Diego Concerts in the Park
San Diegans love their music, and nearly every neighborhood hosts free concerts in the park. On Coronado Island, head to Spreckels Park for live music and picnics every Sunday evening. Del Mar hosts their Twilight Concerts every Tuesday through Thursday nights at Powerhouse Park. Mission Hills presents outdoor concerts on Fridays in Pioneer Park, and Carlsbad's TGIF Concerts move around among four city parks on Fridays.
Whether your budget is a little or a lot, you'll find plenty of things to do San Diego summer nights.