December Nights started as an event in which ten Balboa Park cultural organizations came together to host a celebration. Since that time, the event has grown into a two-night affair sponsored by the city of San Diego and has more than 350,000 attendees.
On Friday, December 6th and Saturday, December 7th, December Nights will celebrate its 42nd year with light displays, exciting entertainment, phenomenal food, goods from local vendors, and free admission to many museums, including The San Diego Natural History Museum. Discover all there is to experience at Balboa Park December Nights.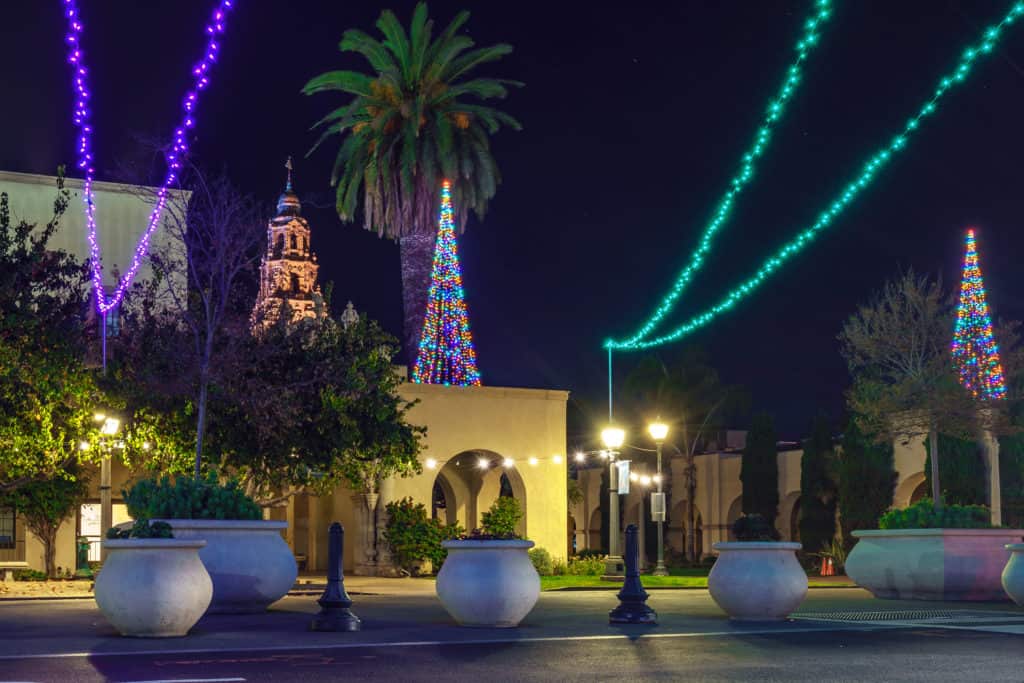 The Holiday Lights of December Nights
The holiday lights throughout the park shine as one of the most magical aspects of December Nights at Balboa Park. Stroll the park in wonderment while enjoying all the events throughout the festival. The landmark Moreton Bay Fig Tree looks especially decked out for the event. A canopy of energy-efficient LED lights enthralls guests at the center of the Plaza de Panama for the entire holiday season, and is sponsored by San Diego Gas & Electric.
Music and Movement at December Nights
December Nights offers visitors an eclectic selection of live music and dance performers, which makes it easy for everyone in your family to find something that they'll enjoy.
Live Music at December Nights
If you're looking for a good dose of holiday cheer, you'll want to check out The Candy Cane Carolers. The group consists of young, professional singers from San Diego County. The Candy Cane Carolers spread the spirit of the holiday season around Southern California.
The San Diego Gay Men's Chorus has performed for crowds at the Super Bowl, the Lincoln Center, and The White House. You can hear them perform at December Nights where they present their Jingle holiday show at the Organ Pavilion for the hometown crowd.
The December Nights Dance Lineup
The Motu Nehenehe Polynesian Dancers will dazzle visitors of the festival with their unique Christmas on the Islands show. This presentation features hulas that include Holiday Hula, Christmas Luau, and Hawaiian Santa.
If you're looking to be more than just a spectator, make sure to check out Creative Dancers 78 on Saturday afternoon at the Palisades at The Palms at Recital Hall. This group performs fully choreographed routines, and invites you and your family to take part in a free dance class.
The San Diego Cloggers have entertained crowds at December Nights for over 30 years. The group will return this year with their energetic and family-friendly form of dance. The San Diego Cloggers combine traditional clogging with contemporary music for a one-of-a-kind show.
Eat, Drink, and Be Merry at December Nights
What would a holiday festival be without food? The food offerings at December Nights range from exotic to traditional, and there's something for everyone regardless of dietary restrictions.
For fun, holiday-themed fare, you should stop by Corn Dog Lemonade Food Booth for a delicious holiday themed-funnel cake. Craveology at the Fleet Science Center will also offer a special menu with items to celebrate the holiday season.
If you stick to a plant-based diet, you'll find plenty of options for vegetarians and vegans as well. Chameleon Catering has many vegetarian dishes and prides itself on creating a gourmet dining experience for everyone. Churriza specializes in handmade vegan-friendly churros and plantains. If you eat a gluten-free diet, you won't want to miss the desserts of Awafee Gluten Free, designed to combine great taste and texture.
Find Unique Holiday Gifts at December Nights
In addition to being great for food and entertainment, December Nights is a wonderful opportunity to find something unique for everyone on your holiday shopping list.
For the scientist in your family, you can find something special at the Fleet Science Center North Star Science Store that has gifts designed to educate curious learners of any age. The Irish Charm store features handmade Celtic jewelry that your favorite fashionista won't be able to find anywhere else. At Les Crème, you can buy locally made, luxurious soaps and skincare products for the person on your list who enjoys the finer things.
The San Diego Natural History Museum at December Nights
The San Diego Natural History Museum will open its doors from 3 p.m. to 9 p.m. on both days. Guests enjoy free general admission and reduced entry to view films in their giant-screen theater. Free admission during the festival includes access to Hidden Gems, Unshelved: Cool Stuff from Storage, Coast to Cactus, Extraordinary Ideas, Skulls, Fossil Mysteries, and Insects Face to Face. Guests of all ages can enjoy learning about the wonders of the world and the animal kingdom.
For a reduced rate of $5, visitors can view Hidden Pacific 3D or Conquest of the Skies 3D in the museum's theater on their giant screen. Check out their website for showtimes.