"To awaken quite alone in a strange town is one of the pleasantest sensations in the world. You are surrounded by adventure. – Author, Freya Stark
For some, the idea of doing anything solo is foreign. Whether it be something as casual as dining solo in a restaurant, or something more daring like attending a festival alone, we resist it.
Seeking human connection is a natural part of our lives as social beings. But it's this characteristic of our human nature that also inspires fear, anxiety, and resistance to doing anything alone. We're conditioned to believe that to truly enjoy the world, we need to be at least a party of two.
But here's the inescapable truth about solo travel, and it's a simple one at that.
You'll be fine.
In fact, you'll be more than fine. You'll experience things in a way you never have before. You'll get to explore San Diego on your own terms. And who needs the compromises that traveling with others demands anyway? Traveling solo means you'll more than likely make a few new friends along the way, and have great stories to tell.
So let go of fear and doubt and embrace freedom and independence. To help you get going we've made a list of the best places to eat, sleep, and hang while traveling solo in San Diego.
Unique Dining Choices for the Solo Traveler
San Diego makes it easy to eat out alone without feeling like that awkward, friendless person fidgeting or reading at the table by the kitchen. And with a remarkable culinary scene, you'll be so focused on your food, you'll forget you're dining alone.
Sometimes solo travelers stick with what they know like drive-thru restaurants. When in San Diego, you can only get away with that at In-and-Out Burgers (several locations), or Colima's Mexican Food in North Park. These are the two best restaurants when you don't want to get out of the car. Colima's also made its way onto our best California burritos list. And it's open 24-hours for late night bites.
Burger joints are about as casual as it gets and San Diego has some of the best. Wildly popular Hodad's in Ocean Beach made our Six Best Burger Joints in San Diego list. Seating includes community tables and a street-facing burger bar that make it easy to grab an empty seat and chow down. Rocky's Crown Pub in Pacific Beach is another true neighborhood hot spot. Belly up to the bar and eat your burger with a craft beer.
People-watching can be one of the best ways to turn the tables, so to speak, on awkward solo dining. And there are some great options in San Diego. You'll find Cliffhanger Café at Torrey Pines Gliderport in La Jolla where you can watch hang gliders and paragliders as you dine. Where better to people-watch than from an observation deck where it's the expectation? For beachside people-watching while dining, try Baja Beach Café, extroverts can easily mingle with locals and other travelers here.
Have you ever seen someone at a food truck and wondered why they were eating alone? No? Exactly. San Diego has a thriving food truck scene. The 45,000+ voters for San Diego A-List awards named the best food trucks in America's Finest City, and we blogged about the top five for you. Check out the best San Diego food trucks here and dive into everything from butter poached lobster tail to hickory smoked barbecue.
Get the lowdown on San Diego restaurants on our restaurants page.
Solo-friendly Accommodations in San Diego
San Diego independently-owned hotels, boutique hotels, and even hostels are accustomed to catering to solo travelers, whether for business or leisure. San Diego has no shortage of solo-friendly accommodations. Think about your own personality and the kind of people and environment you vibe with, and create your solo travel experience in San Diego around a comfortable home base. Here are a few to consider.
If you're a savvy solo traveler looking for upscale beachfront accommodations, take a look at Tower 23 in Pacific Beach. Third floor west facing rooms offer the best views and most privacy. Tower Deck is perfect for sunset music and cocktails and meeting other travelers. And the proximity to popular Garnet Avenue offers an easy way to dip in and out of the local social scene effortlessly.
Are you a solo business traveler who needs close proximity to Downtown for work, but also wants a laid-back place to enjoy the city after five? Check out The Pearl Hotel in Point Loma. The upscale vintage-modern hotel is as easy-going as it is fun. Book the Super Strand room for a one-of-a-kind experience – seriously, there's only one Super Strand room. Enjoy some me time at nearby San Diego Bay and trendy Liberty Station.
Solo and visiting San Diego for the classic SoCal surf vacation? You'll find your groove at Ocean Beach Hotel. Since it's located across from the beach at the end of Newport Avenue, the neighborhood's social and culinary hub, you're close to all the action. Choose a second or third floor ocean facing suite with a balcony for panoramic ocean sunsets, or current surf conditions. Surfers and hodads alike will feel at home at Ocean Beach Hotel.
You can find more hotels suited to solo travelers on our hotels page.
Comfortable Must-see Attractions for the Solo Traveler
Balboa Park is the largest urban park in the country. (Yes, that includes New York's Central Park.) Peruse one or more of the 17 museums in the park, enjoy the lush surroundings in the Botanical Building and Lily Pond, grab a bench or grassy spot in the park to relax, or find solace at the Japanese Friendship Garden. Extroverts may want to pop next door to the famous San Diego Zoo where there's plenty to see and do, but with bigger crowds too.
A walk along the embarcadero offers beautiful views of San Diego Bay, options for bay tours from speed boats to sail boats, and lessons in the city's maritime history from both San Diego Maritime Museum and the USS Midway Museum. Stroll Waterfront Park across North Harbor Drive with its 830-foot-long fountain, cool gardens, and relaxing benches. Some of San Diego's best festivals and events also take place here.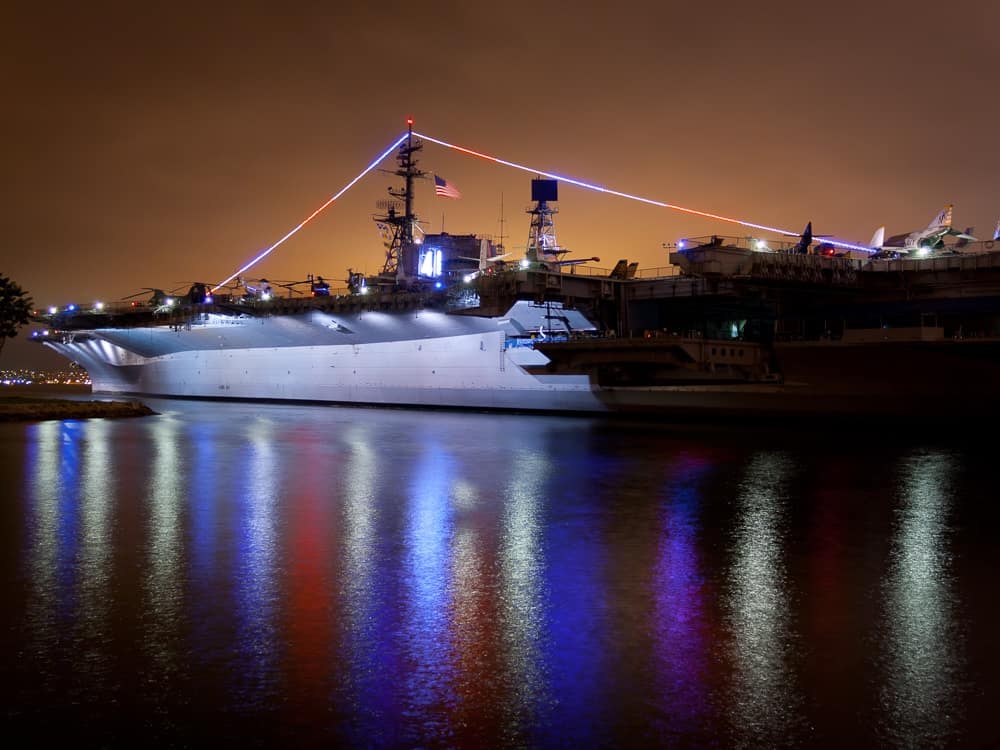 Beaches are the ultimate place for solo travelers to hang out, and with 70 miles of coastline, there are plenty of them. Pacific Beach and Mission Beach create one long, glorious beach between them, and is arguably the city's most popular. Coronado Beach is San Diego's only true white sand beach, which makes it a must-see too. Of course, take the opportunity to wander through historic Hotel del Coronado while you're there. You can check out San Diego's most popular beaches here.
You'll find San Diego's best attractions, including some discounts, on our attractions page.
Are you a frequent solo traveler? We'd love to hear about your favorite restaurants, hotels, and attractions in San Diego. Sharing is caring, so comment below.