Ah, the fish taco. It is to San Diego what the hot dog is to Coney Island and cheesesteak is to Philadelphia. It's our signature go-to street food, and we have San Diego surf culture to thank for it. Surfers chasing big waves along the Pacific coast of Mexico's Baja peninsula brought the idea of the delectable street food to San Diego.
In fact, surfer Ralph Rubio was one of the first to gamble on the popularity of the fish taco in San Diego during the early 1980s, and consequently made a fortune with his popular Rubio's Fresh Mexican Grill franchises.
Almost everyone agrees that the fish taco was born in Ensenada – a fusion of Mexican stuffed corn tortillas and Asian fried fish. (Dissenters are from San Filipe where they also claim to be the birthplace of the fish taco.) The classic fish taco is crispy batter-fried fish in a corn tortilla with shredded cabbage, crema, pico de gallo, and a squirt of fresh lime.
With the rising popularity of Cali-Baja cuisine, a spinoff of the Mexican Baja-Med explosion, fish tacos in San Diego now come in a variety of innovative gourmet styles and a fusion of flavors. You'll even find them on flour (gasp!) tortillas, an Americanization of traditional corn tortillas.
Mariscos German Taco Truck
It makes sense that Mariscos German would make the list of best fish tacos in San Diego. After all, the authentic Mexican flavors of this wildly popular food truck claimed a spot on our 5 best food trucks list not long ago. As we pointed out then, The Daily Meal counted Mariscos German fish taco among the top five tacos of any kind in the country, and it's on Zagat's top five fish tacos list too. Their hand-battered mahi-mahi tacos are crispy fried and served on a fresh corn tortilla with shredded cabbage, a piquant crema, pico de gallo, and a squirt of lime – just the way they should be. Call for the current locations of their food trucks.
City Heights
4357 El Cajon Boulevard, 619-864-6889
Blue Water Seafood Market & Grill Mission Hills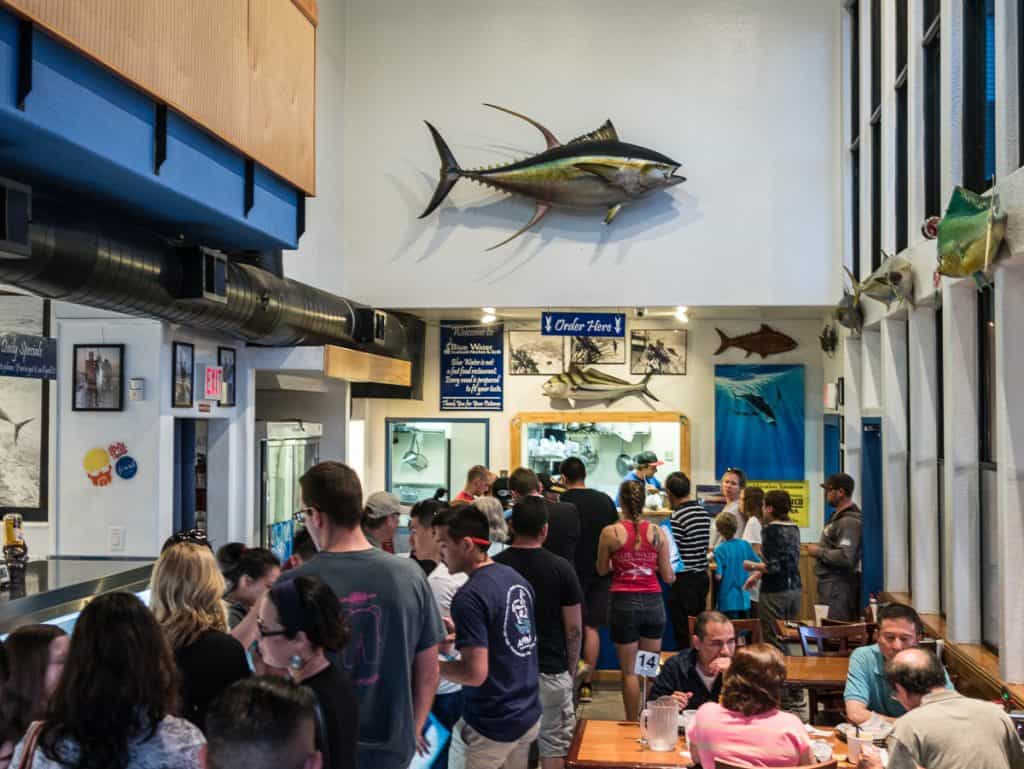 When your tagline is All We Do Is Fish, there's a good chance you know how to do it up right. If you're more convinced by popularity, the line is almost always long and the only negative you're likely to read on review sites is about the wait. It's that good. Since it's also a fish market, the fish tacos don't get fresher than Blue Water Seafood Market and Grill. There's a wide variety of grilled fish and seafood taco options here besides the classic fried fish taco. You choose your fish, then the grill marinade, then the taco preparation. Tacos are served on flour tortillas here, if that's a deal breaker. Try the grilled mahi mahi or the soft-shell crab tacos if you must break from the classic.
Little Italy
3667 India Street, 619-497-0914
Oscar's Mexican Seafood
Bring your appetite and a napkin bib to Oscar's Mexican Seafood, because fish tacos here are big and messy. Their classic Baja-style batter-fried fish taco is served on a corn tortilla with shredded cabbage, onion, tomato, cilantro, and creamy sauces heaped on top. Roll up your sleeves and dig in, because these authentic fish tacos are worth the drippy mess. You'll also find grilled mahi mahi tacos here served on flour tortillas with the same generously messy fixin's and topped with sliced avocado. It's almost always busy and has a trove of excellent online reviews, if you need that kind of validation.
Pacific Beach
703 Turquoise Street, 858-488-6392
Puesto at the Headquarters
Puesto at the Headquarters is a fun and funky urban restaurant that specializes in innovative Mexican street tacos made from fresh organic ingredients. Their classic crispy fried fish taco is beer battered wild cod served on a blue corn tortilla with shredded cabbage, tomatillo roja, chile crema, avocado, and lime. The grilled mahi mahi taco is topped with sweet corn, toasted almonds, lettuce, avocado, cilantro, and jalapeno peanut sauce. Grilled local catch fish tacos are topped with adobo verde, salsa fresca, habanero kale, and avocado. These street tacos in 15 varieties are just that – street tacos – so expect them to reflect the small size of traditional street tacos you'd find anywhere in Mexico.
Marina District
789 West Harbor Drive, 619-233-8880
Roberto's Mexican Food
If Roberto's Mexican Food sounds familiar, it's because you're either a local fan of the 24-hour taco shops, or you remember them as a best California burrito pick. Roberto's is an icon of authentic Mexican food in San Diego. The family has been adding restaurants to their empire since 1963. That has to tell you something. Their crunchy classic fried fish taco is served on a corn tortilla with a generous portion of fish and traditional toppings piled high: shredded cabbage, crema, pico de gallo, and a lime. Locals flock to Roberto's on weekends and during summer after the bars close for Cali burritos and fish tacos before bed.
Of course, this list isn't exhaustive and some may even argue with our selections for top five status. Passions run deep when it comes to the San Diego foodie scene, whether it's burgers, burritos, fish tacos, or upscale Cali-Baja entrées, everyone has an opinion.
With that in mind, we'd also like to give a shout out to the other fish taco restaurants that should be on the list: El Zarape Restaurant, Bahia Don Bravo, Kotija Jr. Taco Shop, Rubio's Fresh Mexican Grill, and World Famous.
Go ahead, tell us where we'll find your favorite fish taco.