You've probably heard about the latest Cali-Baja cuisine craze in San Diego. It's been all over social media for months. If you have a vague idea of what it's all about but want to know more, here's the lowdown on this popular new foodie trend.
San Diego's Farm Fresh Food Scene
Cali-Baja was born out of the creativity of top chefs in San Diego and Tijuana. In recent years, San Diego chefs have focused menus on fresh, organic, locally sourced ingredients taking advantage of the abundant certified organic farms in the region and popular farmer's markets like Little Italy Mercato.
Many have also taken to using fresh ingredients from the restaurants' own gardens. Menus feature organic grass-fed beef and local catches off 70 miles of San Diego shoreline. It's what health conscious San Diegans have come to expect.
Tijuana's Baja-Med Explosion
Across the California-Mexico border, Tijuana has been at the epicenter of the exploding Baja-Med food trend. A fusion cuisine in itself, it's characterized by Mexican, Mediterranean, and Asian influences. Top chefs have taken advantage of the area's Mediterranean climate producing olive oil, wine, and regional herbs and vegetables, neighboring Mexicali's Chinese culinary tastes, and of course, Baja's regional Mexican foods.
American celebrity chefs Rick Bayless and Anthony Bourdain shined a light on the emerging cuisine and brought it to the attention of a wider audience. Top Tijuana chefs like Javier Plascencia and Miguel Angel Guerrero have been wowing an international flow of foodie tourists ever since.
Merge of Cali-Fresh and Baja-Med
Chef Guerrero, owner of La Querencia and several other high-end Tijuana eateries, said it best when he described the culinary relationship between Baja and San Diego like this, "The relationship between Tijuana and San Diego is like that of a married couple. It started off with a lot of passion, like a honeymoon. Things cooled off between them by 2008, they weren't spending as much time in bed together – the spark had gone out of the relationship. Tijuana and San Diego almost got a divorce. Now, they're finding their way back in bed together. The passion is coming back. We miss each other and need each other."
The result of kissing and making up is Cali-Baja food culture, a Californian-Mexican-Mediterranean-Asian fusion of ingredients and flavors whose moniker is unique to San Diego. It's characterized by fresh catch seafood and farm-fresh produce-centric dishes, Mexico's Baja-Med fusion of flavors, and artisan cooking techniques from both sides of the border.
Where to Experience Cali-Baja Cuisine
Now that you know what it is, where can you try it while visiting San Diego? The answer is almost anywhere. Since Cali-Baja is unique to San Diego, its growing popularity has led to a range of eateries from food trucks to high-end restaurants. Here are a few we like.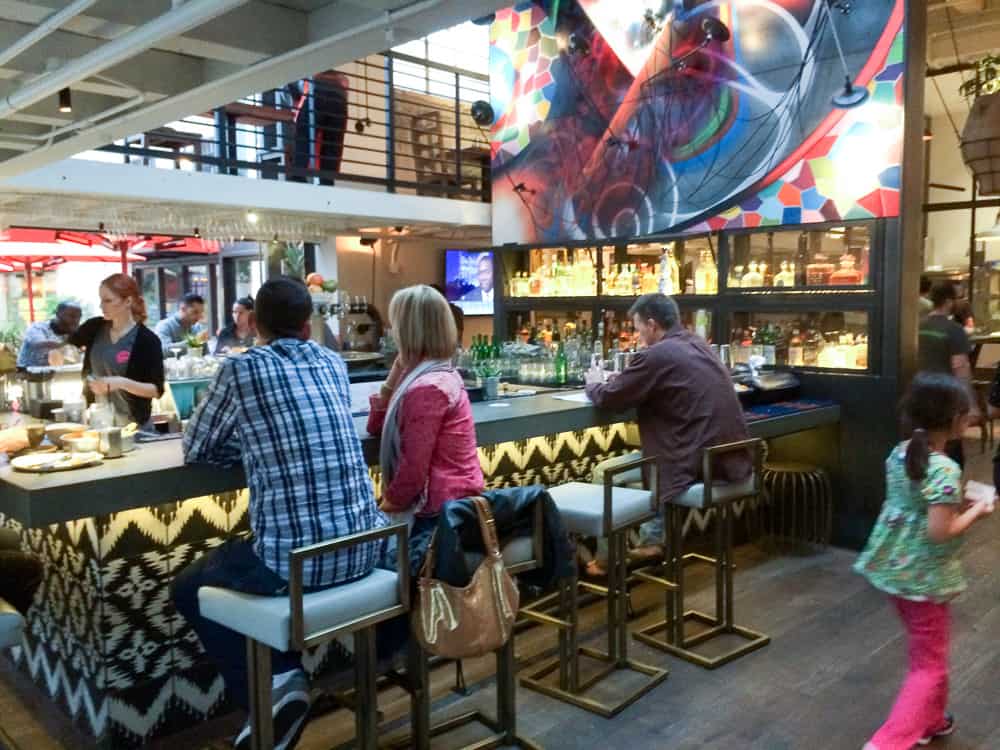 Puesto – Their specialty is street tacos that have garnered much praise from foodies. There are over ten choices; keep it traditional with the Carnitas taco – braised pork, guacamole, and tomatillo verde, or go extraordinary with the Mahi Mahi taco – Mahi a la plancha, sweet corn, toasted almonds, lettuce, avocado, fresh cilantro, and jalapeno peanut sauce. Other favorites are Ceviche de Acapulco and the Mexican Street Bowl. Taco Tuesdays are the perfect day to sample Puesto with two tacos for $5, and $3 Dos Equis. Their open-air downtown location in Seaport Village is a bonus! 789 West Harbor Drive
Oscar's Mexican Seafood – Oscar's was voted Best Cheap Eats of 2015 by San Diego Magazine, so it's the perfect place to begin your foray into Cali-Baja food. Try the Fisherman's Torta, spicy shrimp, scallops, grilled and smoked fish on a torta with cabbage, onion, tomato, cilantro, avocado, and cheese. The Garden Fish Salad features grilled fish or octopus with sesame seed oil/ginger dressing. They also serve four kinds of ceviche, including blue fin tuna. Oscar's is located a block from the ocean in Pacific Beach, and also at three other locations in North Pacific Beach, Hillcrest, and East Village. 746 Emerald Street
Galaxy Taco – Opened in 2015, Galaxy Taco is the epitome of casual Cali-Baja cuisine. And why not? It's owned by renowned La Jolla chef Trey Foshee who's been the ambassador of the Cali-fresh organic food scene and is master chef at George's at the Cove. His new restaurant in La Jolla is an all-natural taco shop. They even grind their own masa for non-GMO blue-corn tortillas daily. The taste is in the organic details and artisan Cali-Baja selections. Share a grilled blue corn quesadilla with beets, almonds, charred salsa, hibiscus, and queso Oaxaca, or keep it simple with Baja fried fish tacos with cabbage, pico de gallo, chipotle crema, and avocado. It's hard to go wrong. 2259 Avenida de la Playa
Bracero: Cocina Mexicana de Raiz – Located downtown in Little Italy, Bracero is the crème de la crème of Cali-Baja cuisine. Tijuana top chef of the Baja-Med movement and owner of Bracero, Javier Plascencia, is among the trailblazers of the Cali-Baja culinary scene in San Diego. Try the wood grilled octopus small plate with Meyer lemon, olives, crispy garbanzo, yuzu roasted peanuts, and jalapeño, or one of many tantalizing Caja Baja entrées like pan seared fish of the day or carne asada molcajete. The upscale two-story restaurant has a ceviche bar and a taco area with hand-made tortillas. Dine indoors or on an open terrace. 1490 Kettner Boulevard